Linear ceilings, our ideal solution for lobbies, outdoor canopies...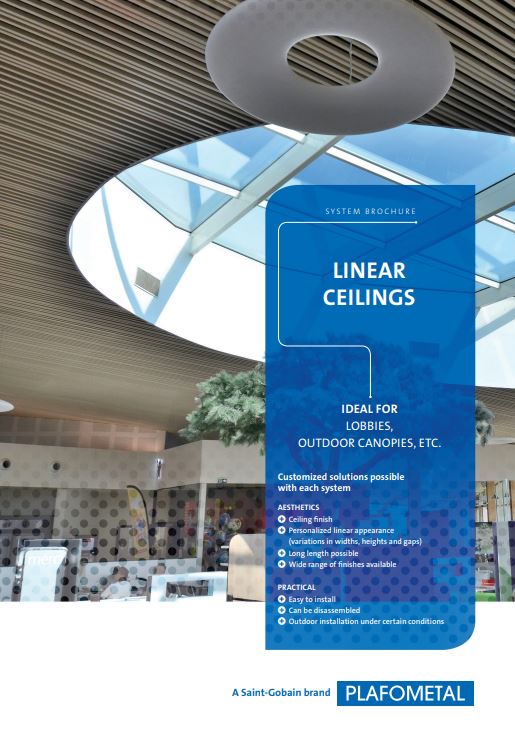 AESTHETIC
Ceiling finish 
Personalized linear appearance (variations in widths, heights and gaps)
Long lengths possible
Wide range of finishes available
PRACTICAL
Easy to install 
Can be dismantled 
Outdoor installation under certain conditions
Read our brochure and discover our 2 types of linear ceilings :
Systems of linear aluminium strips clipped under carriers for a customizable and stylish linear appearance (colors, dimensions, finishes, etc.).
The advantages :
Wide selection of colors (anodized, wood effect, etc.)
Several edge finishes (round, square and closed)
Personalized linear appearance with a multi-strip design
Different dimensions (widths, heights and gaps)
Long lengths
4 systems :
Systems of linear panels clipped under carriers for finishing indoor and outdoor ceilings. Panels of different widths can be combined thanks to the carriers without any interval requirements.
The advantages :
Ideal for outdoor structures
Long lengths
Easy to install (wide center spacings)
Can be dismantled if required
2 systems :
Personalized solutions possible from each system.