...Wall to wall suspended ceilings, the ideal solution dor offices, meeting rooms, showrooms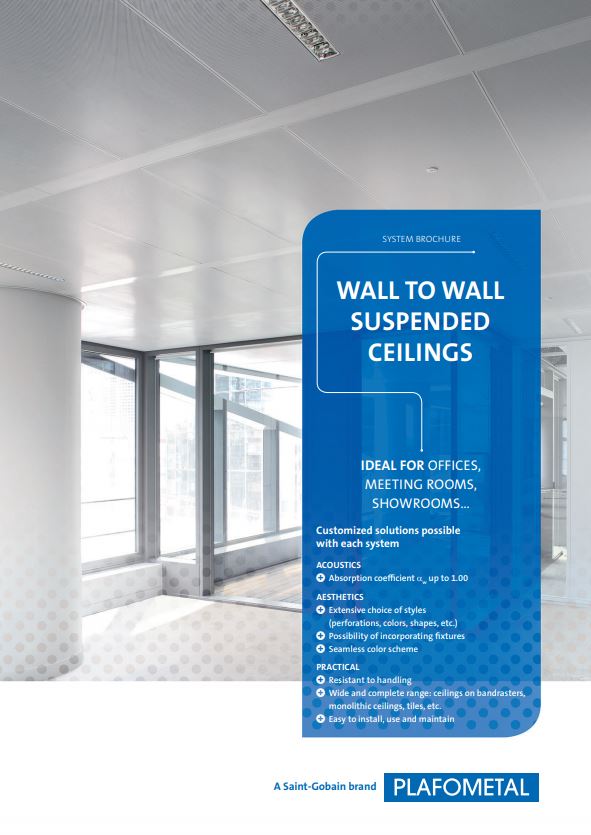 AESTHETICS
Extensive choice of styles (perforations, colors, shapes, etc.)
Possibility of incorporating fixtures
Seamless color scheme
PRACTICAL
Resistant to handling
Wide and complete range: ceilings on brandrasters, monolithic ceilings, tiles, etc.
Easy to install, use and maintain
Read our brochure and discover our 4 types of wall to wall suspended ceilings :
CEILING ON BANDRASTERS (FOR PARTITIONING)
Stylishly modern systems that allow access to the plenum while guarenteeing superior comfort (visual comfort, acoustic and thermal performance, etc.), meaning that they are the ultimate office 
The advantages :
Suspension carriers for removable partitions walls
Various options: hook-on panels, lateral sound insulation, fire resistance, climate ceilings
4 systèmes :
Sleek systems : the gris are concealed to create a monolithic appearance, while allowing access to the plenum. The ceilings are ideal for meeting rooms and reception areas.
The advantages :
Concealed grids for ceilings with a solid appearance
The plenum can still be accessed
Hook-On and Clip-In systems
Various options: secure access, outdoor installation, fire resistance, climate ceilings
4 systems :
CEILING INSTALLED ON EXPOSED GRIDS
Standard systems that can be adapted to all types of ceiling design : tiles are installed on a T grid and can easily be removed by simply lifting the title.
The advantages :
Modular ceiling
Tiles compatible with all T15 and T24 grids
Easy removal by simply lifting the panel
Finishes: several types of edges (straight, flush, tegular, etc.)
1 system :